By Helen Barker, Teacher Assessment Manager, Chartered College of Teaching
Why mentoring?
I've been really lucky recently as I've had the chance to talk to a range of experienced and expert teachers, mentors and educators about mentoring. We've talked about what mentoring is (and isn't), the evidence around effective mentoring practice, what's important to mentors and their mentees, as well as how mentor development and professional learning can be supported. But I also had the chance to ask these experienced educators why they were interested in mentoring, and what drove them to be working to improve mentoring practice in their context. The responses were fascinating. Each person was able to give an example of how mentoring had affected them, from inspiring and supporting their own teaching to examples of 'judgementoring' (Hobson & Malderez, 2013) and the negative impact that this can have. The educators also told me that mentoring can help teachers, pupils, schools and communities to flourish, and that effective mentoring builds a legacy of improving practice and teacher professional learning. Mentoring was described as the lynchpin of educational communities.
The research around mentoring backs up this viewpoint. Mentoring research shows benefits such as mentoring having a positive impact on mentees, their learning, classroom practice and their well being (Maxwell et al, 2022, Lord et al., 2008). Mentoring can also go further and impact on mentors themselves, as well as trickling down into student outcomes (Ingersoll and Strong, 2011). Alongside this, now that mentoring is provided for our Early Career Teachers, the role of the mentor has risen in prominence, alongside discussions about effective mentor practice and development. One of the problems with mentoring though is that it can look very different in different schools, situations or even between different people. Some overarching themes however do come through the research, including that mentors support their mentee's development by identifying learning goals, actively listening to their mentee, giving the right level of guidance or feedback and raising awareness of practice using techniques such as modelling (adapted from CUREE, 2005 p.3).
Mentoring is incredibly important to our teachers, students, schools and communities, so we shouldn't be leaving the positive impact of mentoring to chance.
Mentor Learning and Development
But what about mentor professional learning and development? How do mentors know how to mentor effectively, and how can they improve their mentoring practice?
At the Chartered College of Teaching, we think that mentor professional learning should focus on developing understanding of effective mentoring approaches, include opportunities for mentors to practise mentoring and also give mentors the opportunity to continue to develop their professional knowledge and expertise around teaching and learning.
We've also identified 15 Professional Principles for mentors, informed by evidence and feedback from the teaching profession, which define an advanced standard of practice. These Professional Principles are organised into three categories: professional Knowledge, Professional Practice and Professional Behaviours.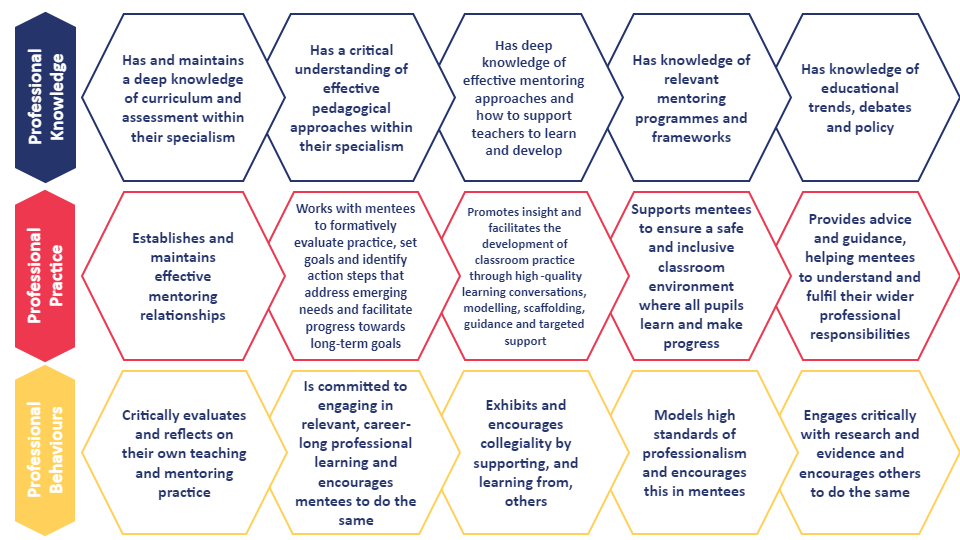 The Professional Principles are the bedrock of our new pathway to Chartered Status: Chartered Teacher (Mentor) Status.
Chartered Teacher (Mentor) Status is a professional accreditation that provides formal recognition to highly accomplished mentors who have attained an advanced standard of practice. Chartered Teacher (Mentor) holders are recognised for evidence-informed, high-quality teaching and mentoring practice, benefiting their school, their mentees and the children and young people that they teach.
There are four self-paced assessment units which make up the pathway to Chartered Status, and you can find out more information about these in our brochure.
The assessment unit that I'm most excited about is the Development of Teaching Practice (Mentor) Award. I think that this unit will be transformational for mentor practice in schools, helping mentors to refine and improve aspects of their mentoring practice. Mentors self assess themselves, identifying an area that they want to develop, and then find out what the research says about effective mentoring practice in that area. After that, the mentors plan and carry out two cycles of purposeful practice, writing evidence-informed action plans and reflecting on their progress. Finally, the mentors share their practice in a short recorded video presentation. This type of developmental process is backed up by evidence, including from Hobson et al. (2020), which argues that mentors need opportunities to practise mentoring, reflect on their practice and sustain their engagement over time. I'm excited about this unit because I know how transformational this type of development can be, as I found this myself when I was working towards Chartered Status. By focusing tightly on a small area of practice, mentors will be able to see how their changes impact on outcomes. But it goes further than that. I found that it was like dropping a stone into a pond, as the ripples widened from my own practice and then were picked up by others in the school, eventually changing our school practice. This unit has the potential to be transformative for mentors, and then also positively affect their mentees, students, schools and wider educational communities.
We're fully aware though of the barriers that can exist to professional learning and development for mentors. Mentors have already taken on board extra workload and responsibility, and this can sometimes be unseen and underappreciated. Our Chartered Teacher (Mentor) Status assessment units are designed to be flexible and enable mentors to work on individual, departmental or whole school areas for development, and they can work alongside other mentor training too. We also offer credits towards Chartered Status for mentoring on the Early Career Framework, for example or for other relevant professional learning, such as NPQs.
What's next?
I hope that you agree with us that mentors deserve recognition and support for the amazing work that they are doing in schools, and that Chartered Teacher (Mentor) Status can play a part in this. To find out more, you can download our Chartered Teacher (Mentor) Status brochure, and purchase access to our specialist mentor units on our website.
We'll be continuing to talk about and explore mentoring, ensuring that the professional expertise of mentors is celebrated and appreciated. We hope that you'll join us in raising the profile of mentors and the wider teaching profession.
---
References
CUREE (2005) National Framework for Mentoring and Coaching [online] Available at: http://www.curee.co.uk/files/publication/1219925968/National-framework-for-mentoring-and-coaching.pdf Accessed 27 January 2023
Hobson A and Malderez A (2013). Judgementoring and other threats to realizing the potential of school-based mentoring in teacher education. International Journal of Mentoring and Coaching in Education, 2 (2), 89-108
Hobson A et al. (2020) The Nature and Impact of Effective Mentoring Training, Education and Development (MTED). [online]. Available at: https://cris.brighton.ac.uk/ws/portalfiles/portal/21916643/ETF_MTED_Final_Report_Hobson_et_al_2020_Final_AH_30_Nov.pdf Accessed 27 January 2023
Ingersoll R and Strong M (2011) The Impact of Induction and Mentoring Programs for Beginning Teachers: A Critical Review of the Research 81(2): 201-233.
Lord P, Atkinson A and Mitchell H (2008) Mentoring and coaching for professionals: a study of the research evidence. [online] Available at: https://www.nfer.ac.uk/media/2003/mcm01.pdf Accessed 27 January 2023
Maxwell, B., Hobson, A., & Manning, C. (2022). Mentoring and coaching trainee and early career teachers: Conceptual review. [online] Available at: https://niot.s3.amazonaws.com/documents/Conceptual_Review_Mentoring_-_Nov_22.pdf Accessed 26 January 2023