Dr Jo Saxton, Chief Regulator, Ofqual
As we approach this summer's exam series, I would like to thank you. I know this year has been another challenging one in schools and colleges. I recognise the invaluable work you do all year round to prepare your students for their exams and assessments.
Support for students – at a glance
As Ofqual's Chief Regulator students are my compass. Getting grading right for 2023 means doing what will best serve students' interests. Returning to normal grading this year is not about abstract principles – it is about what helps you to best support your students.
For that reason, we are returning to the normal, well-understood arrangements as far as possible, while putting in place support for students, including grading protection, in recognition of the disruption they have experienced.
This infographic shows the support that is in place for students taking GCSEs and A levels this year.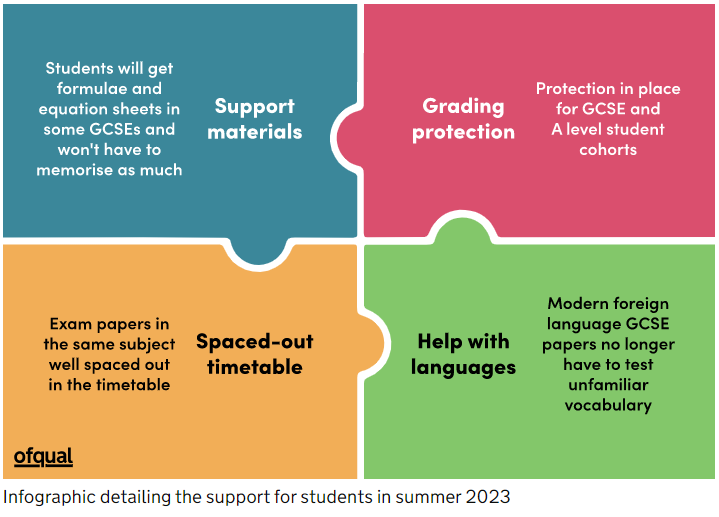 Grading this summer
In September 2021 I set out a two-year path back to pre-pandemic grading. Students deserved to know as they started studying for their qualifications how they would be assessed and graded at the end, and teachers and leaders needed clarity.
At the start of this academic year, when I confirmed Ofqual's grading approach for 2023, I took into account the disruption this year's students have faced, whilst making sure that qualifications remain a measure of what students know, understand and can do. Balancing those things is part of my job as Chief Regulator.
The grading protection that we have introduced for GCSE and A level students means that a student who would have achieved a certain grade before the pandemic is just as likely to achieve that grade this summer, even if their performance is a little weaker than that needed in 2019 to secure that grade.
This means we expect national results for GCSEs and A levels will be similar to those before the pandemic. This also means national results will be lower than in 2022.
It's also critical to remind students and parents that there is no quota of grades. That's one of the key ways that our system is fair.
Universities understand this approach to grading and took it into account when making offers. As you know, the overall number of university places available is not affected by the number of top grades awarded.
Vocational qualifications are assessed using a range of assessment methods, so awarding organisations will use suitable grading approaches for their qualifications. Awarding organisations will take into account the approach used at GCSE and A level where appropriate, so that students are neither advantaged nor disadvantaged irrespective of what qualification type they take.
For T Levels, Ofqual has asked awarding organisations to be generous in the first years of awards for the Technical Qualification component. This is to reflect that they are new qualifications. 2023 will be the first year that Technical Qualifications in T Levels are based fully on exams, whereas some previously included teacher assessed grades in 2021. This means that the profile of results may look different in some subjects and it will be important not to compare them with last year's results.
GCSE, AS and A level timetable – contingency sessions
Exam boards have included contingency sessions in the timetable, on the afternoons of 8 and 15 June, and all day on 28 June. These sessions would be used in the unlikely event that exams could not take place nationally when planned. Students must be available for these contingency sessions as well as for the dates of their scheduled exams.
As exams approach, you'll be making sure that your students understand the rules, know their timetable and are prepared for each exam or assessment.
Your students might come across websites or individuals offering leaked exam papers or other assessment materials. Such materials are probably fake. Regardless, students should not look at any papers or materials offered in this way.
Exam boards investigate any attempt to breach exam paper security. If there is any evidence that a student has engaged with leaked papers – even if they are fake – they could face sanctions, including disqualification.
Make sure your students know they should speak to you urgently if they become aware of any possible leaks. It is important to report all instances of suspected exam paper leaks to Ofqual or the exam board as soon as possible.
And too many students face sanctions for taking in their phone or watch. It is considered malpractice to even have a phone or watch, whether or not you are trying to cheat, so don't take the risk.
Vocational and technical qualifications (VTQs)
Students should receive results when they expect them, regardless of the qualifications they are taking. Last summer, a small number of students' results were delayed and Ofqual has taken action setting out what needs to be done so that students receive their full and final results on time in August. You can find more detail in Ofqual's Level 3 VTQ Action Plan for 2023.
This year's arrangements are a significant change to how many VTQs have worked in the past. Making sure you are aware of the key dates and checkpoints each awarding organisation has set for Level 3 VTQs is important. To help you understand when these key dates are, Ofqual has launched a new information hub on Level 3 VTQs used for progression to higher education. Using the information hub will help exams officers and teaching staff to work effectively with awarding organisations during term time so that students get their results on time.
This means exams officers, senior leaders, teachers and curriculum staff need to engage with the quality assurance process for student eligibility checking and evidence gathering earlier in the summer term than in previous years. This earlier engagement when staff are still available will alleviate queries closer to results day.
The information hub is the latest in Ofqual's package of measures to create parity for VTQ students in summer 2023.
Ofqual resources
Ofqual has a range of resources, which you, your students and their parents might find helpful.
I would like to close by thanking you again for your tireless work in preparing your students to show what they know and can do in their exams this summer. I wish you and your students all the very best.