The Chartered College of Teaching is committed to embedding an evidence-informed culture in schools and trusts 
Please note: Registration to the Research Mark pilot has been paused due to high demand
What is Research Mark?
As part of the Chartered College of Teaching's commitment to embedding an evidence-informed culture in schools and trusts, we are pleased to be piloting our new Research Mark kitemark accreditation.
This exclusive kitemark will recognise and celebrate schools and trusts who are working towards or who already have embedded engagement with research and evidence across their setting or settings.
The Chartered College of Teaching is authorised to award Research Mark to schools and trusts in the UK who meet the Research Mark criteria.
What are the benefits of taking part in the Research Mark pilot?
As well as demonstrating an organisation's evidence-informed practice throughout their setting or multiple settings, Research Mark will also act as a developmental process, allowing organisations to review current practice before extending and reshaping their engagement with research at all levels of their organisation, from leadership to classroom practice and within their wider community.
Pilot organisations will have access to the Research Mark Hub, which contains guidance for completing the application process and submission templates, and will also have further support in working towards Research Mark such as the introductory webinar and a peer support network.
What is the Research Mark pilot process?
Schools and trusts should first register their interest using the form linked below.
⚪ Please note that for our pilot, the key contact for Research Mark within a school or trust must be a member or Fellow of the Chartered College of Teaching or willing to take up membership.
In January 2024, a launch webinar event will take place, where organisations will have a chance to meet their peer schools and trusts and find out more about the Research Mark pilot process and the Research Mark assessment criteria.
During the Spring and Summer terms, organisations will be able to gather evidence towards the assessment criteria, with a chance to discuss their progress with their peers.
All Research Mark applications will be reviewed and assessed by the Chartered College of Teaching, before an online visit takes place between the assessor and the organisation to discuss the application.
⚪ Pilot organisations will be eligible for one free resubmission and assessment, if required.
Organisations will receive a report on their Research Mark application, and successful schools and trusts will be awarded Research Mark accreditation.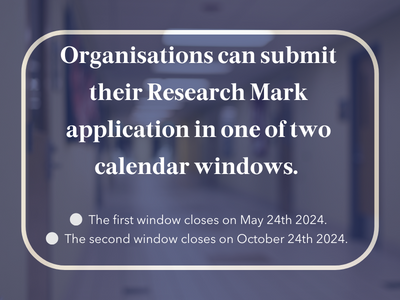 How much does it cost?
There is a sliding scale for costs, based on school or trust size. For the pilot, the following costs will apply:
| | |
| --- | --- |
| Single school registration* | £495 |
| Trust registration (2-4) | £895 |
| Trust registration (5-9) | £1295 |
| Trust registration (10+) | £1495 |
Pricing table for pilot school and trusts applying for Research Mark kitemark accreditation. * Small schools may be eligible for a discount.
How can I find out more?
If your organisation would like to register for the Research Mark pilot, please fill in our registration form here.
Registration will close on Thursday 21st December 2023. In order to organise an effective pilot, numbers of schools and trusts will be limited.
Interested organisations should register as soon as possible in order to secure a place in the pilot. We will be organising registrations by size and type of setting, and may close registration for certain categories if we receive enough registrations of that type.
If you have further questions, please contact us by email: accreditation@chartered.college